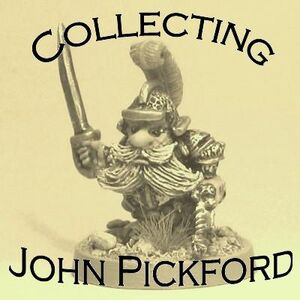 Welcome to the Collecting John Pickford Wiki
Okay, I confess to it. My name is Clam and I'm a John Pickford-o-holic. Can't get enough - and John has really become my favourite fantasy miniature sculptor of all times.
Introduction
So in here I'll try to document his sculpting career. Will try getting pictures of as many of his commercial and private made miniatures as possible - so expect seeing anything from greens to painted samples, but will make quite an effort getting naked metal miniatures for you. Most of my own painted Pickford's can be found on my Clamshells and Sea Horses blog or my Facebook-page, so feel free to stop by and have a look - but don't expect to find award winning paint jobs in there, though.
You can also find me on Twitter and Facebook
Index - Collecting Guide
John "Poshgoblin" Pickford has created lots of miniatures for different companies/persons. Use this index here to find specific miniature lines:

Painting galleries:

If anyone has anything to add or comment or if I have made any errors or got something wrong - don't hesitate contacting me, please. You can contact me through the above mentioned Clamshell-blog.
And if you have any Pickford miniatures in your possessions that's missing in here. Rather sure I'll be interested as well