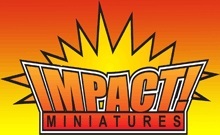 Impact! Miniatures is a company specialised in doing games and miniatures for Miniature Sport Games.
I 2012 they have released a miniature call Zoat the Bibbisaur. The miniature is a conversion of the Limited Edition Zoat carrying an Eldar Casualty that Axiom had made for the Gaming Cantina's 2012 event. All the conversions were done by John Pickford.
In 2015 Impact! took over Axiom's Beast Face Miniatures range and through Kickstarter released the entire Beastface Chaos team in resin. Beatsmen and minotaur had already been released by Beast Face in white metal but the Chaos Warriors finally got released by this successful Kickstarter.
Zoat the Bibbisaur
Beastface Chaos team
Beastmen
Resin versions of the original Beast Face metal Beastmen - See Beast Face Miniatures
Minotaur
Resin version of the original Beast Face metal Minotaur - See Beast Face Miniatures
Chaos Warriors
Released in a 4 miniatures set. 2x2 bodies, 5 different heads, 2x4 Right arms
Ad blocker interference detected!
Wikia is a free-to-use site that makes money from advertising. We have a modified experience for viewers using ad blockers

Wikia is not accessible if you've made further modifications. Remove the custom ad blocker rule(s) and the page will load as expected.